Page 1: 歩行者用 Pedestrian Lights   自転車用 Cyclist Lights
Page 2: 車用信号機 Lights for Cars
---
歩行者用信号機 Traffic Light for Pedestrians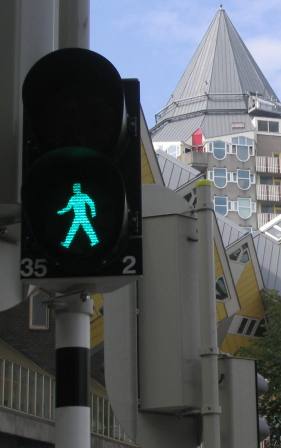 ヨーロッパを放浪してきたWRN氏の提供品。
見て明らかなように、歩行者用信号です。
背景のおしゃれな建物のちょっと気になるけどなんだろう。
Taken by my friend WRN, who strolled around Europe.
Apparently, this is for pedestrians.
Quite similar to Japanese ones.
Well, I have nothing more to say about this... it is just too apparent...
I like the building behind the traffic light.
 
撮影者:WRN 撮影場所:アムステルダム 撮影日:2005年8月
Photograph by WRN, in Amsterdam, August 2005
Foto's genomen door WRN, in Amsterdam, in Augustus 2005
---
自転車用信号機 Traffic Lights for Cyclists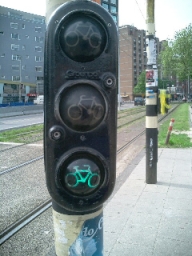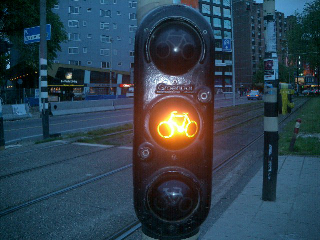 こちらはEMO氏から頂いたもの。
ドイツのと似てる(気がするだけ)。
自転車は歩行者みたいに赤・青の2色かと予想していたが、車同様ちゃんと3色ある。
考えてみたら、自転車は車と同じ左側だから、歩行者より自動車に近いのだろう。
たしか教習所では「自転車=軽車両」と教わった気がする。軽くても「車」なのか。
でも、軽車両には馬や牛も含まれるんだよなー。動物なのに……。
These lights look like German ones to me.
I expected that lights for bikes had two lights like pedestrian ones, but in reality they had three lights: red, amber and green, like ones for cars.
Maybe this is because bikes are more close to cars than pedestrians; I learned bikes are 'light vehicle' in a Japanese driving school.
Talking about 'light vehicle', it includes horses and cows! Are animals 'vehicle'?
撮影者:EMO 撮影場所:不明 撮影日:不明
Photographs by EMO, place unknown, date unknown
Foto's genomen door EMO. Plaats en datum onbekend.

---


---