世界の信号機(韓国) Traffic lights in Korea Page 2
 
Page 1: 車用信号機 lights for cars   歩行者用信号機 lights for pedestrians
Page 2: 済州島の信号機 lights in Jeju-do
---
済州島の信号機 lights in Jeju-do (Korea)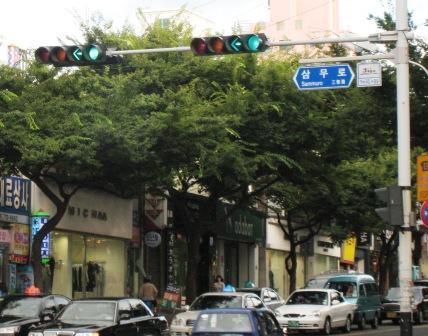 撮影者:WRN 撮影場所:済州島 撮影日:2007年8月
Photograph by WRN, in Jeju-do, August 2007
済州島がどこかわからなかったのでWikipediaで調べてみたところ、韓国領であることが判明した。
読み方は「チェジュ」とのこと。
そういや実家のほうにそういう名前の焼肉屋があったな。
韓国では人気のある島なんだろうか。全然知らなかった。
韓国本土と同様、4つのライトがある。
写真で見る限り、4個のうちの1つは青の←マークで、その他に普通の青もあるようだ。
Wikipedia 「済州島」
I had no idea where Jeju-do is, so I consulted Wikipedia (Japanese one, for English one does not have an entry for this island).
It says Jeju-do belongs to Korea and it is famous for its strange (unusual) nature.
Lights in Jeju-do have four lights, like those in Korea (Korean Peninsula) do.
Judging from the picture, they have green light and green arrow.
They look a bit strange to me (Japanese) because a light with a green arrow is located under green light, not next to it in Japan.
---