5. 日本 Japan
 Page 1: 車用信号機 traffic lights for cars
 Page 2: 路面電車用信号(広島) lights for trams (Hiroshima)  路面電車用信号(東京) lights for trams (Tokyo)
Page 3: 予告信号灯 Advance traffic lights  文字付き信号機 lights with words
---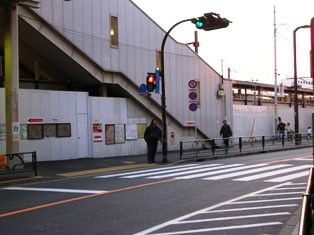 撮影者:ほのりあ(管理人) 撮影場所:東京都小金井市 撮影日:2004年4月
Photograph by Honoria (headmaster), in Koganei (Tokyo), April 2004

日本の横断歩道はヨーロッパ式である。かつてはハシゴ型だったが、それだと水がたまりやすいので、縦線をなくしたらしい。
写真は赤黄青の横並びであるが、北海道や新潟など雪の多い地方では、横型だと雪がたくさん積もって重みで折れてしまうことがあるので、縦型を使ってるらしい。でも、雪の全く降らないマレーシアやケアンズでは縦型だった。なぜだ?

Japanese crossways are European style.
They used to be ladder-style but they deleted horizontal lines because puddles of rainwater tended to appear between horizontal lines.

The light in the photo is horizontal, but in snowy areas such as Hokkaido and Nigata they use vertical ones.
This is because more snow pile up one horizontal lights and they may be broken off by the heaviness of snow.
Then, why Malaysia and Cairns (in Australia), where there is no snow, use vertical ones??

Maybe vertical ones are more popular in the world.



---